ICHARS Support Foundation is a non-profit arm of ICHARS, Institute of Clinical Hypnosis And Related Sciences; focusing on promoting the mental health CASE – "Bringing about Change through Awareness, Support, and Education." Our work is based on the belief that by raising public awareness, educating communities, and equipping every person with the right tools, we can foster optimal mental health.
We have weekly Support Groups, namely: Talk it out Support Group, a safe space for people to vent out their emotions, and Psychologist Support Group, a peer learning space where practitioners from the field of Psychology meet every week and have case discussion, share tips, and techniques with the fellow members of the group.
ICHARS Support Foundation has also initiated "The VisitMHP challenge", an initiative that focuses on requesting people to seek help for better mental health before it's too late.
60 hrs internship/ Eclectic Approach to Psychotherapy
A free 60 hour (6 weeks) online internship program on conceptual understanding of the eclectic approach to psychotherapy program is offered on a monthly basis for psychology students and aspiring practitioners. As a part of this online internship program the interns understand the concepts to 50+ techniques to address any kind of presenting problems by client. This is a self-paced internship program with pre-recorded videos and a weekly live Q&A discussion with the lead mentor, the CEO and Founder of ICHARS – Mr.Nitin Shah. There were 37 interns who successfully completed this internship program.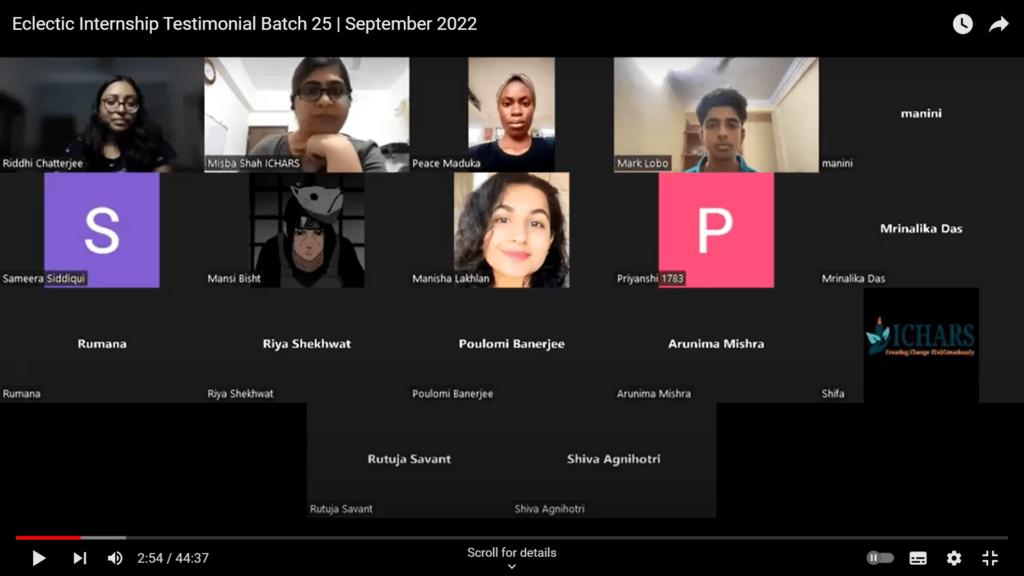 Program – Free online internship to conceptual understanding to eclectic approach to psychotherapy
No of interns – 37 interns between the period of 1st September to 15th October.
Duration – 60 hour internship program (i.e for a period of six weeks). We have new batches that are commenced during the first week of every month.
Visit MHP
Visit MHP is an initiative to Spread awareness about the importance of visiting a mental health practitioner even before reaching the stage of disorders and offer Peer Support to Practitioners with free training programs, structured mentorship & a lot more.
Support group Case discussions
We as an institute strongly believe that our role as a trainer does not end when the training session ends. There are many times practitioners need help with certain clients and to help our trained professionals on that front we have case discussion meetings twice every month.
This platform enables our students to get in touch with us and discuss the various cases that they have been handling and get their doubts and queries clarified.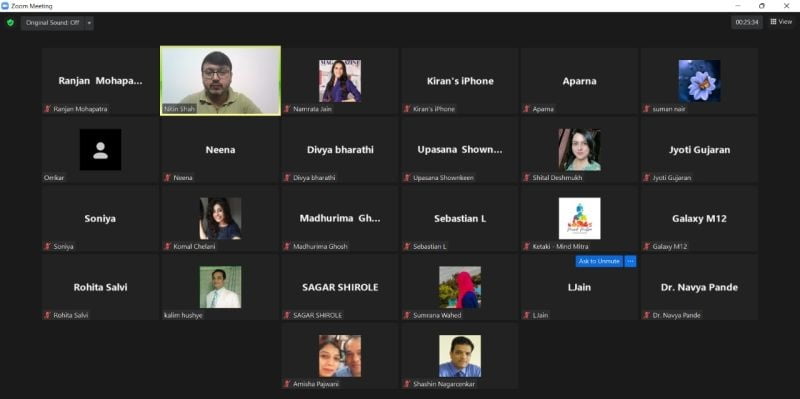 Topic – Case discussions (doubts and session flow details clarified for coaches & therapists who seek help with their ongoing cases)
Beneficiary – Practicing psychologists
Conducted by: Mr. Nitin Shah
No of participants – 25-30 participants
No. of sessions – 1
Date – 13th September, 2022
Duration – 1 – 1 & half hours (monthly one session)
Niche Identification
A niche enables clients to recognize your product and brand, and realize that your offer is tailored to their needs. Additionally, focusing on a smaller target audience lets you concentrate on the quality of your customer service and establish a long-lasting relationship.
Topic – Niche Identification (doubts clarified for coaches & therapists who seek help with their Niche identification)
Conducted By: Mr. Nitin Shah
Beneficiary – Practicing psychologists
No of participants – 35 (per session)
Date – 20th September, 2022
No. of sessions – 1 (per month)
Duration – 1 – 1 & half hours (monthly one session)
Webinar
A Webinar is a presentation, lecture, workshop, or seminar that are transmitted over the web using video conferencing software. The main objective of the webinar is to instruct, demonstrate, or educate.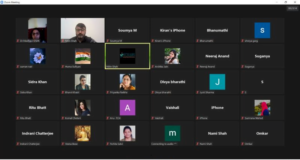 Since Visit MHP is a learning platform, where we give opportunities to psychologists to present their knowledge on various topics with fellow practitioners. This monthly webinar is a platform for them to talk on various topics like anxiety,relationship counseling, sleep counseling, fear phobia etc. And impact knowledge on the various ways of dealing with clients who approach them with these kinds of issues.
Topic – Helping client manage sleep issues
Conducted By: Ms.Nidhi Pandey
Beneficiary – Practicing psychologists
No of participants – 35 (per session)
No. of sessions – 1 (per month)
Date- 26th September, 2022
Duration – 1 – 1 & half hours (monthly one session)