Program – Online internship to conceptual understanding an eclectic approach to psychotherapy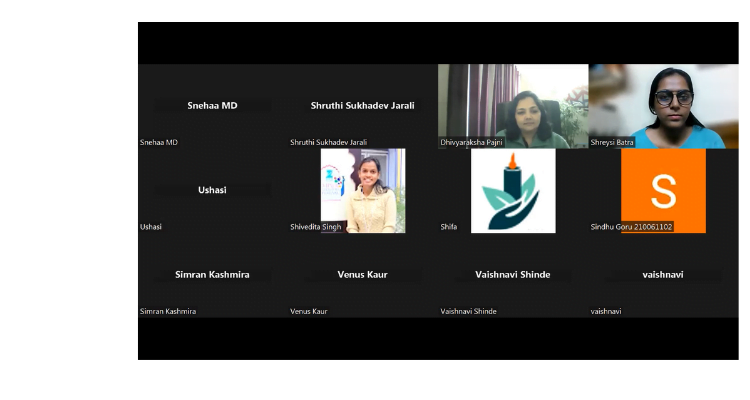 No of interns – 19 interns between the period of 1st December to 15th January.
Duration – 60-hour internship program (i.e., for six weeks). We have new batches that are commenced during the first week of every month.
Visit MHP:
Visit MHP is an initiative to Spread awareness about the importance of visiting a mental health practitioner even before reaching the stage of disorders and offer Peer Support to Practitioners with free training programs, structured mentorship & a lot more.
Support group
Case discussions
We, as an institute, strongly believe that our role as a trainer does not end when the training session ends. Often, practitioners need help with certain clients, and to help our trained professionals on that front, we have case discussion meetings twice every month.
This platform enables our students to get in touch with us, discuss the various cases they have been handling, and clarify their doubts and queries.
Topic – Case discussions (doubts and session flow details clarified for coaches & therapists who seek help with their ongoing cases)
Conducted By: Mr. Nitin Shah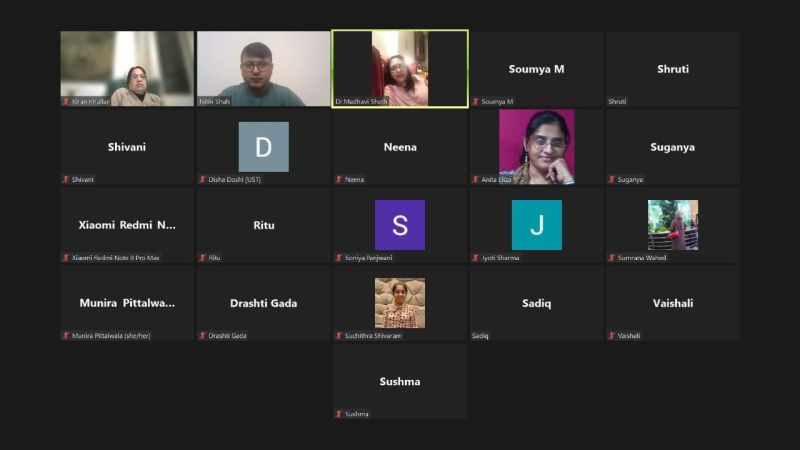 Beneficiary – Practicing psychologists and coaches
No of participants – 20 participants
No. of sessions – 1
Date – 13th December, 2022
Duration – 1 – 1 & half hours (monthly one session)
Webinar
A Webinar is a presentation, lecture, workshop, or seminar transmitted over the web using video conferencing software. The main objective of the webinar is to instruct, demonstrate, or educate.
Since Visit MHP is a learning platform where we give opportunities to psychologists to present their knowledge on various topics with fellow practitioners, this monthly webinar is a platform for them to talk on various topics like anxiety, relationship counseling, sleep counseling, fear phobia, etc. And impact knowledge on the multiple ways of dealing with clients who approach them with these kinds of issues.
Topic – Understanding Anger.
Conducted By: Ms. Kiran Khullar
Beneficiary – Practicing psychologists
No of participants – 22 participants.
No. of sessions – 1
Date – 26th December, 2022
Duration – 1 – 1 & half hours (monthly one session)
Project MEHAK : Project MEHAK is an initiative by ICHARS Support Foundation which is in collaboration with Healing Dove Foundation.
MEHAK (Mental and Emotional Health Awareness through Knowledge) is an initiative to facilitate the destigmatizing of mental health, creating awareness about the importance of mental health and providing effective tools and techniques that can be applied by people at large to stay emotionally and mentally healthy.
ICHARS Support Foundation (ISF) is a non-profit organization dedicated to creating a holistic system that connects, supports, and enables all the stakeholders in the mental health landscape. The Healing Dove Foundation (HDF) works towards achieving and establishing sustainable strategies that facilitate the psychosocial and economic reformation and rehabilitation of marginalized communities in India and across the world.
As a part of this initiative there were a series of online workshops conducted, in the month of December, on mental health and mental well-being.
Workshop conducted for Urja Trust Foundation
This workshop was aimed at providing valuable information and resources to help individuals manage their mental health and improve their overall well-being.
The workshops covered a range of topics, including:
Managing Anxiety: This workshop provided participants with strategies and techniques to help them manage and reduce feelings of anxiety.
Prioritizing Tasks & Communication Skills: This workshop focused on helping participants develop effective time management and communication skills to improve their productivity and relationships.
Respecting Boundaries for Self as well as Others: This workshop explored the importance of setting and maintaining healthy boundaries in both personal and professional relationships.
Healthy Ways to Express Anger: This workshop provided participants with techniques to help them express their anger in a healthy and constructive way.
Work-related Stress & Developing Healthy Relationships: This workshop focused on helping participants identify and manage stress in the workplace and develop healthy relationships with their colleagues and supervisors.
Overall, the workshops were well received by the participants and provided them with valuable information and tools to help them improve their mental health and well-being. The ICHARS Support Foundation is committed to continuing to provide these types of workshops to the members of the NGO Urja Trust Foundation and other organizations in the future.
Session Conducted by: Practitioner Of ICHARS
Session 1 : Nidhi pandey , Omkar Pawar
Session 2 : Ritu Bhatt , Pratibha Lamba
No. of participants: 12 (female participants)
Age group: This was open to all age groups.
No. of sessions: 2
Date – 2nd and 5th December, 2022
Duration: 90 min (each session)